Part 4 Navigation and Finding Your Way
Don't Lose Your Way
Finding Your Way
For the official long-distance routes on the coast, navigation is easy. Just keep the ocean to your left (or right, depending on your general heading). And yet on the first day of setting out from Padstow on the South West Coast Path I managed to follow a finger post that said "SWCP" that pointed in the direction opposite from my intended direction. It's hard to explain how I did that. I won't bore you with a long paragraph on how I turned myself around. The point is that it's possible to get off track.
My most important piece of advice is don't be over confident and assume you know where you are. When in doubt, check. You're on foot so if you continue in an incorrect direction it can take you a long time to fix your mistake. Better to notice quickly that you are off your intended route and do something about it sooner rather than later. So how do you know where you are and whether you are on track?
Ways You Can Go Wrong and How to Avoid Them
My most embarrassing navigation mistake happened on the Pennine Way. It was raining so I was a bit buttoned up. I walked down the path to a spot where it crossed a busy road. I stopped there for a bit of a break and had a small snack and a drink. During my break, I somehow got it into my head that I had crossed the road and just started up the path. But I hadn't crossed the road so when I headed up the path I was actually heading back in the direction I had come from. I probably went almost a quarter of a mile before I checked my GPS track and realized I was retracing my steps. Nagging doubt is your friend! Listen to it. When in doubt, check!
Some of my difficult navigation experiences have occurred while I was following a local route suggested by a pamphlet from the local TIC (tourist information center). The local route may not be that heavily used and may or may not have signs when you need. A crude hand drawn map that may go along with a pamphlet like that is not enough to keep you from getting lost. You need a good map or a good mapping app on your phone.
There are a number of situations that have tended to increase my chances of error. You may encounter a pasture area where the problem is that there are a bewildering multiple of paths you might follow, paths made by grazing sheep or cattle. That's a time when you need to keep an eye on your GPS or your compass. Another situation that has caused me problems is when I'm striding along a nice wide track and my intended route turns off onto a small, less visible path at the side. Unless you are paying attention, it may be easy to miss the turn. As I said at the beginning of this section, don't be over-confident. If you have any doubts, check where you are.
A GPS Trace to Keep on Track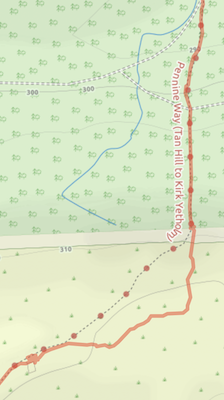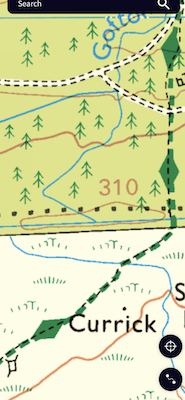 One nice feature of using a SatNav (GPS) device or a smart phone is that you may be able to quickly look at the device to see whether you have wandered off route. The two maps here show a situation where I got slightly off track on the Pennine Way. There was no clear path on the ground, just lots of sheep trail meandering about. On the map on the left, the solid orange line shows the GPS trace recording my walk. I saw on the map that I was aiming toward a forest area. As I later got into that area I realized that a large section had been clear-cut so looking for a wooded area was not helpful. Once I looked closely at my GPS I realized I was heading too far east and needed to turn north to regain the main trail. The photo shows the spot where I took off my rucksack and paused to figure out where I was and which way I needed to head.
I enjoy saving GPS traces as a souvenir of my walks. When I zoom into the detail I can sometimes see places here I went wrong.
Ordnance Survey Trig Points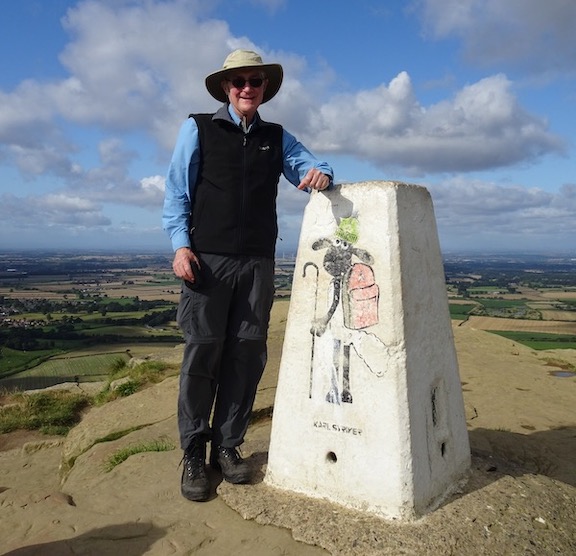 The Ordnance Survey is not just maps. It actually has a visible presence on the ground. On many high points one finds a concrete pillar that marks one of the known survey points that anchor the maps created by the Ordnance Survey. Because the trig pillars are located at a high spot with a good view, one generally feels a sense of accomplishment having reached one.
Between 1935 and 1962 more than 6,500 concrete pillars marked the basis for the UK Ordnance Survey grid. Traditional survey techniques required that in clear weather it be possible to see at least two other trig points from any one trig point. (Or so they say. I can't say that I've been able to verify that.)